The PRIDE and GLORY of our students and staff!
PTO Family Fun Night
Thank you to all those families that joined us in the PTO Family FUN Night at the Ice & Events Center.
50th Day of School...
Some of our teachers had fun celebrating the 50th day of school.
Candy Galaxy - Robotics
Congratulations to our Candy Galaxy Team for winning Honorable Mention at this year's Robotics Competition. Way to go kiddos.



4th Grade ~ Ft. Laramie
Our 4th grade kiddos had the chance to go to Ft. Laramie for a field trip. They had such a great time be part of this day of fun.
1st Grade STEM Fun
Our first graders had a chance to explore our STEM room and create with our amazing 3D Pens.
Buffalo Ridge is excited to have these amazing items for our kiddos to learn and indulge in STEM activities.


"Principal" Dean HARD at Work
Our Big Kahuna Fundraiser is in full swing. Our students have the ability to be picked as "Principal" to assist Mrs. Peeples with the tough tasks of being a principal.
Our luck winner on Monday was Principal Dean. If he was the full time Principal he would institute specials to include ALL the students from the Grade Level. AND of course, MORE recess.
Congrats and Thank you Principal Dean for your hard work.


"Principal Quille"
Our lucky winner on Tuesday was Principal Quille. She is hard at work, signing the needed papers to accept the role of Principal. If she could change one thing at Buffalo Ridge, she would change the color of the doors. Way to go Emma.


"Principal Mares"
Our lucky Thursday Winner!
If he could change one thing at Buffalo Ridge, he would have our cafeteria serve Hotdogs instead of chicken nuggets.




"Principal Pelletier"
Friday's lucky winner …. was Principal Pelletier.
His favorite thing about this school would be the classrooms. One thing he would like to change is....to see some art paintings up around the school! However, only the kind Mrs. Mugg really likes :)
We like that idea Principal Pelletier.








"Principal Cusson"
Our final winner....was Principal Cusson.
What I love about Buffalo Ridge is ….. I love our playground at Buffalo RIdge. Some schools don't have a playground, so I am glad we do.


Congrats to all of our East High Graduates.
Buffalo Ridge students and staff cheer on the East High Graduates. We are so proud of your big accomplishments and wish you continued success in the years to come.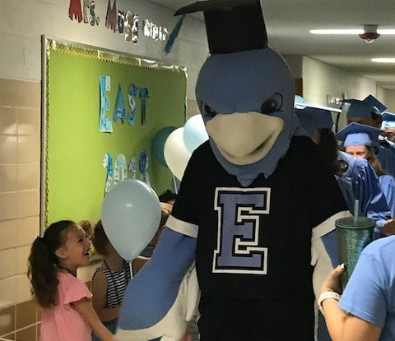 We love to read! Our Library is going through a focus of downsizing and our AWESOME District has allowed us to send books home with students. It warms our hearts to see the kiddos excited about books and reading.
Special surprise
Mrs. Brown received a special surprise from East High School's Mariachi Band.
What a sweet treat to have her son be included in the serenade.

The third grade team lead the learning this afternoon for a Power Focus surrounding STEM and friendship. Buffalo Ridge students used three very different objects; a bow tie pasta, a cotton ball, and a Q-tip to engineer and create a unique vision of what friendship means. Mixed age and grade groups cooperated and collaborated successfully to forge new relationships that bridge classes and grades.
Buffalo Ridge offered our teachers the opportunity to purchase a book for each of their students to promote reading during the Winter Break. You can see the delight in each of the kiddos' smiles :) We love our students!

Pajama Day
Kindergarten Holiday Program
We LOVE our Foster Grandparents!!!
We had several staff show their appreciation for our Foster Grandparents. Kim Mugg and her daughter Lauren enjoyed the festivities during the Foster Grandparents Holiday Appreciation Event this weekend.

Buffalo Ridge Holiday Program
We are so lucky to have Ms. Fritz as our Music Teacher at Buffalo Ridge. Each year she raises the bar and brings on one of the best performances around Cheyenne.
Thank you Ms. Fritz for the joy you bring to Buffalo Ridge.

United Way Giving
Mrs. Benton participated in the Annual United Way Giving Campaign. She was the lucky winner of a basket. She posed with our famous mascot, Rocky.
Love helping the community!!
United Way Giving

Fundraiser Limo Ride & Pizza Party
2nd grade stem project.
Our 2nd grade students had fun building structures with candy corn and toothpicks.
Welcome Back!
Mrs. Peeples visited each of the classrooms to welcome back our fabulous staff and students. We are off to another great year!
It is great to be a Buffalo Ridge Buff.

4th Grade - Miss Frontier Visit

4th Grade Ft. Laramie

4th Grade had a great time at Fort Laramie, where they had the opportunity to explore and learn more about the Oregon Trail Wagon Ruts.
Track meet

Congratulations to all of our participants in a job well done during the track meet. Way to represent Buffalo Ridge!!!!
Thank you to all the Coaches who made this a great event.





Dr. Seuss Week

Our first grade team showed their Dr. Seuss SpIrIt by dressing up as Cat in the Hat, Thing 1 & Thing 2.
The kiddos had such a great time with the themed fun.

Most birds cannot chew their food and owls are no exception. Owls usually swallow their prey whole. However, owls differ from other species of birds because they do not have a crop, the baglike organ used to store food after it has been swallowed so that it can be digested later. In owls, food passes directly from the mouth to the gizzard. The gizzard is an organ that uses digestive fluids and bits of sand and gravel to grind and dissolve all of the usable tissue from the prey.

So 3rd graders.....

Lets.....DiG In !!!!



-Carolina Biological Supply Company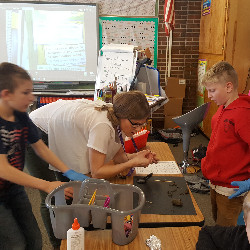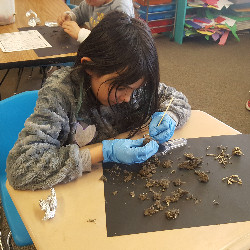 PTO Bingo Night

Our students, families and staff came together for some good, classic Bingo FUN! Many great prizes and snacks were graciously donated by our FaBuLoUs PTO!! Thank you to all who came for some BINGO fun.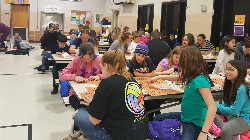 100th Day of School
Several of our staff members agreed to have their picture aged to look 100 - the kiddos had a great time trying to guess who these staff members were.
What great Buffalo Ridge Spirit!!!
Happy 100th Day :)



With these hands I hug my family.....

Check out this great project....Mrs. Hardsocg and Mrs. Essex's 3rd grade classes made these special mementos for their families. What a great keepsake!!

Buffalo Ridge Holiday Concert

Thank you Ms. Fritz, staff, students and families for making this another performance to remember.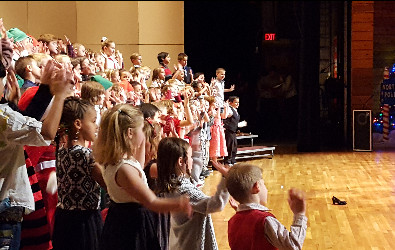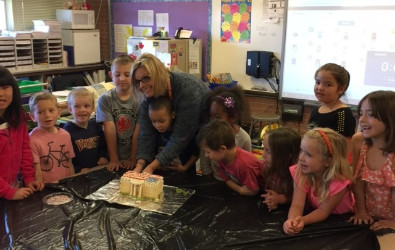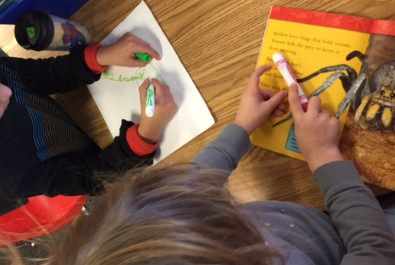 Our Principal has SPIRIT, yes she does....she has SPIRIT, how about you?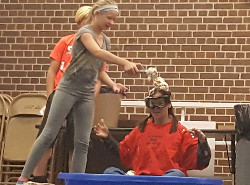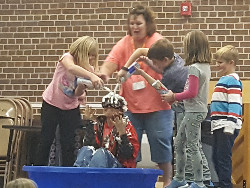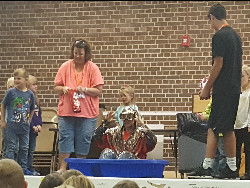 Buffalo Ridge students gathered for an assembly as a reward for the great job they did with our Cup Fundraiser. For their great efforts, several students won the prize of enjoying ice cream with Mrs. Peeples. Then it became VERY interesting.....those prize winning kiddos got to participate in turning Mrs. Peeples into a giant gooey sundae as the rest of the students cheered them on!! What great Buffalo SPIRIT Mrs. Peeples has. The laughter could be heard throughout the school.

Mrs. Peeples ...... you look yummy!